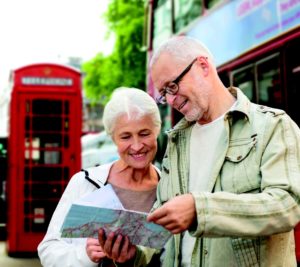 Nacel English School London designed a dedicated Senior English course in London, specially aimed at our mature globetrotters, who wish to improve their English while experiencing London in a different way.
Need to boost your English level, and confidence…? This is unique programme, bringing together a language course with the discovery of London.
Enjoy London, a magnificent cultural city, whilst meeting new people and learning English that will ease your future visits abroad. Don't miss this fantastic opportunity!
Book now your Senior English course in London! Our specific programme include:
– 15 hours of English classes at Nacel English School London, voted 5 stars by our users – true on Google 29/08/2017
– Course material
– Public transportation pass + 3 afternoons of activities with teacher (free and paid activities)
– Accommodation in a host family with half-board
– Perfect mix of practical English and cultural activities with your teacher, focusing on using newly learnt vocabulary in the streets of London
– Specialised teaching for mature learners, a great relaxed working environment, and small classes for more attentive care
– Linguistic immersion, at your pace, and a very original experience!
Live in a safe residential area of the North of London!
North London consists of the safe, leafy, wealthy boroughs of Barnet, Enfield and Haringey, within which are some famous suburbs such as Finchley, Golders Green, Highgate, Whetstone, and Hendon. Totteridge Lane, in Barnet, is one of the most prestigious residential streets in the capital, with some properties at more than £20 million; and Finchley was the parliamentary constituency of the former Prime Minister, Margaret Thatcher, for many years; and celebrities like Emma Bunton and George Michael were also residents. With its parks, nature reserves, sports areas, quiet residential roads and beautiful properties, it comes as no surprise that many celebrities have chosen North London as their home, including Harry Styles, Kate Moss, Liam Gallagher, Jude Law and Jamie Oliver, to name just a few. It also has excellent transport links to all the other parts of the city, via, for example, the Northern Line underground, and buses; as well as lots of tourist attractions, such as the following:
Alexandra Palace. This large, attractive Victorian building is used for exhibitions, performances and sports events. It is set in a large hillside park with fine views over London, and the BBC made the world's first television broadcast from there in 1936.
The Emirates Stadium. This is the home of the famous Arsenal Football Club. The current 60,000-capacity ground is also where sports fans can visit the memorabilia-filled Arsenal Museum and take an hour-long stadium tour led by a team "legend".
Camden Passage. This run of narrow lanes is home to a range of specialist shops that are supplemented by market stalls. Vintage clothes, period crockery, Japanese prints, African waistcoats, designer wools, high quality chocolates – it's all worth a browse.
Discover our Senior English course in London!