Why take an IELTS course? Find out!
Why do we advise you to take an IELTS course? If you have to test your proficiency in English to apply for a visa, to get in the university of your dreams or to get the job you've always wanted, the International Language Testing System (IELTS) is made for you.
In order to prepare for the test, we do advise you to take an IELTS course because:
you will not only improve your English, you will really be prepared specifically for the IELTS exam;
you will be familiar with format and practice of the test: no surprise on exam day!
you will train yourself to take the IELTS test in real conditions: less stress on D-day!
you will be taught a real strategy to obtain the best result at your test.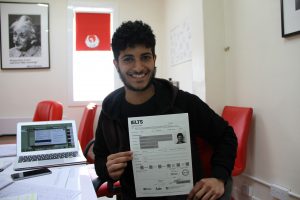 Here are 5 reasons why you should take the IELTS course and test!
The IELTS is recognized internationally
The IELTS is the most widely recognized and accepted test.
More than 10,000 organizations in more than 140 countries recognize the IELTS, including academic institutions, private companies and employers, governments and immigration authorities.
In 2019, over 3 million tests were taken worldwide.
There are more than 1000 accredited tests centers around the globe, including in London.
The IELTS is great for your academic and professional career
A lot of universities require an English language test such as the IELTS during their admission process. You can use the IELTS certificate as a proof of your English proficiency not only during your academic career but also in your professional life! A good score at your IELTS exam is a proof of your ability to work in an English-speaking business environment and can help you achieve your career objectives.
Where could you take an IELTS course?
We offer an  IELTS preparation course in London but also online, which will help to prepare for the exam and secure your success!
Taking our IELTS course in London will allow you to benefit from your immersion in an English-speaking city. Living the British-way of life is an additional experience that can help you score high on your IELTS as you will get to practice your skills in your everyday-life, outside the exam preparation class.
You will receive an accurate and objective assessment of your proficiency
The IELTS is a major English test language that will assess your abilities in listening, speaking, writing and reading according to recognized and rigorous methods and standards. You can be sure that your results will perfectly reflect your abilities in English.
Taking an IELTS test will make you improve your skills in English
Since you will be tested on listening, reading, speaking and writing, you will have to practice these four skills to score high on your IELTS. You can book an IELTS preparation course in London with us to practice before your test and receive our personalized feedback and tips!
While practicing, you will gain a better knowledge of the English language. Once you get your results you will also know what skill you need to improve the most!
Don't hesitate to book one of the best IELTS preparation courses in London to hit your target IELTS score!