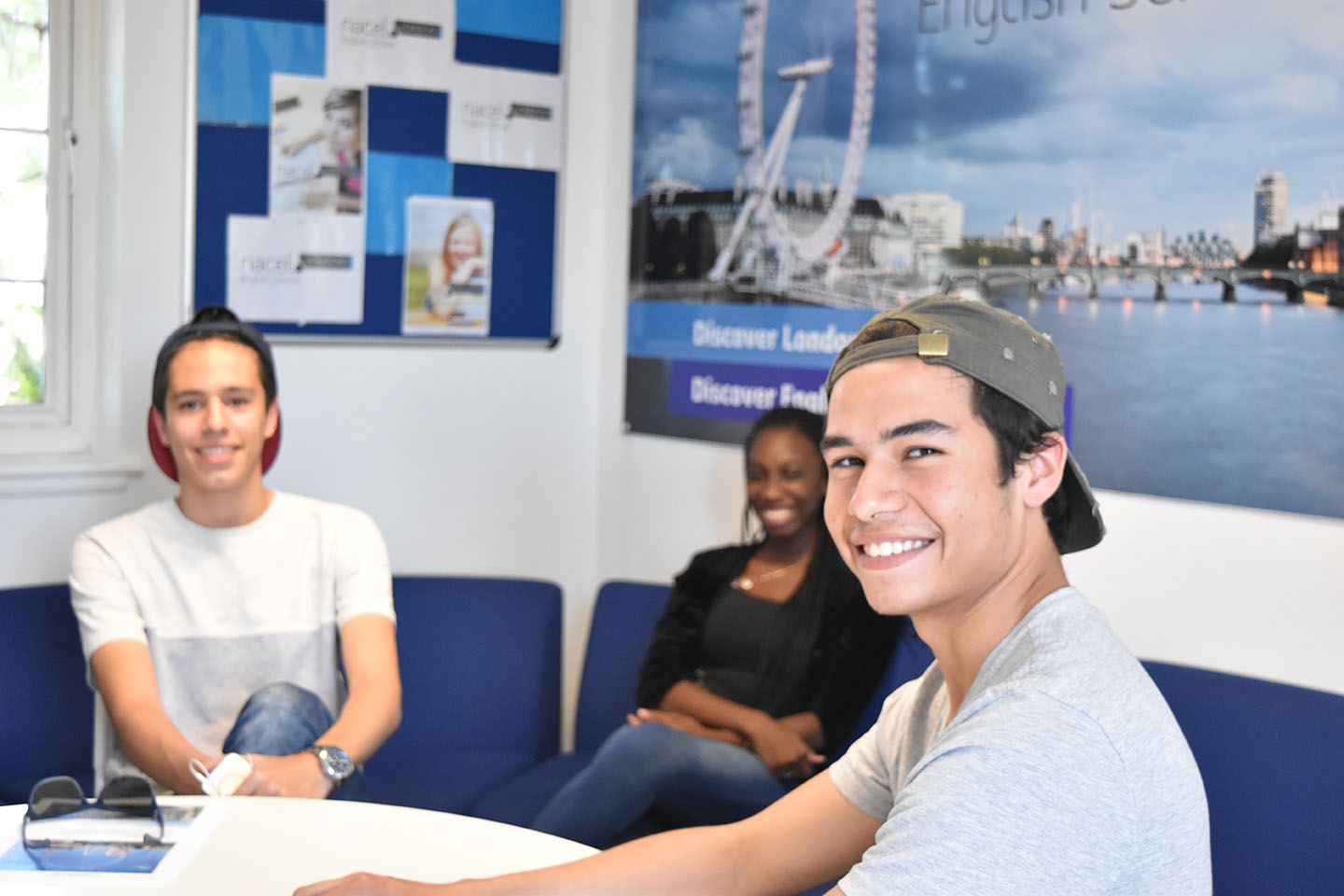 Our School Policies are there to ensure that you have the best experience possible during your English Language studies.
At Nacel English School, the safety of our students is of utmost importance. At the School we are committed to achieving high standards of health, safety and environmental practice. To achieve this, we comply with all relevant legislation relating to Health and Safety.
We ensure control measures and emergency procedures are in place, effective, properly used, monitored and maintained. This is ensured by conducting regular fire drills and careful risk assessments to ensure the buildings are safe. Possible hazards are also identified and formal risk assessments are conducted when appropriate in order to minimise the risk for all social activities undertaken by the school.
We also ensure a high standard of hygiene is maintained throughout the School.
Physical Disability
Our school is wheelchair accessible. Please enquire for further details.
Visual and Aural Impairment
We can usually help students who have some difficulties with their sight or their hearing; however, our courses are probably not suitable for the totally blind or very deaf. Please contact us if you require special arrangements and we will try our best to accommodate your needs or guide you to someone who can help.
Dyslexia or other Learning Difficulties
If you are dyslexic, or have a learning difficulty, it is very helpful if you can inform us prior to your arrival so we can do our best to accommodate your individual needs and requirements. If you are planning to take an examination, we can liaise with the exam board and make special arrangements for you.
Mental Health Issues
The school is a small, friendly and supportive place and all the staff at Nacel English School strive to provide a friendly, personal and welcoming environment in order to help students adjust to their new life in London. We strongly advise students – or their parents or sponsors – to inform us prior to enrolment of any mental health problems so we can advise them as to whether our courses are suitable.
How do I complain?
Nacel English School prides itself on the quality of teaching and help and support it offers students. However, sometimes students may have a problem or a complaint. At Nacel English School we take all complaints seriously. Our complaints procedure is as follows:
If you have a problem, please come to Reception and talk to a member of staff. They will do their very best to solve your problem(s) immediately as we are here to help you.
However, if you have a complaint, we will ask you to complete a complaints form.
If you still have an issue you can speak to the Academic or Administration Manager.
If you are still not satisfied, you can speak to the School Manager, and if you wish to submit a complaint in writing; please write to: The School Manager, Nacel English School, 53-55 Ballards Lane, Finchley, London, N3 1XP.
All complaints will be examined carefully and in the strictest confidence. We will inform you within 48 hours as to what action will be taken.
Your happiness is of utmost importance and we will do all we can to ensure we solve any problem or problems you may have.
We are a member of EnglishUK – the association for accredited English Language Centres. Therefore, if you are still unhappy you may take your complaint to the ombudsman of this organisation, who will then investigate your complaint. You can contact EnglishUK directly at: 219 St John Street, London, EC1V 4LY. Alternatively, their telephone number is 020 7608 7960.
The school is also accredited by the British Council and you can also contact this organisation should you need to make a complaint about our services. You can contact them at: Accreditation Unit, British Council, Bridgewater House, 58 Whitworth Street, Manchester, M1 6BB. Alternatively, their telephone number is 0161 957 7692.
To ensure all complaints are dealt with properly, all complaints are recorded in writing and include the stage at which they are resolved.
NACEL ENGLISH SCHOOL ABUSIVE BEHAVIOUR POLICY
Nacel English School policy is to protect all its students and staff from unacceptable behaviour as we disapprove of all forms of personal harassment and seek to ensure that our school environment is pleasant and supportive for all.
Harassment, bullying or victimisation on any grounds, including the grounds of race, colour, nationality, ethnic or national origin, sex, marital status, gender reassignment, sexual orientation, religious belief, disability or age is unacceptable.
Any student guilty of abusive behaviour will be disciplined and the Nacel English School disciplinary procedure will be followed. However, if the behaviour is found to be of extreme seriousness, we will expel the student without any warning and a refund will not be given (as stated in point 43 of the School Conditions of Enrolment.) The management's decision is final.
Any issues / instances that you report will be recorded in writing and will be kept confidential as these documents will only be seen by management. We will do our best to deal with the situation promptly and effectively.
Any student with a complaint against staff should report to School management and appropriate action will be taken.
If a student's behaviour in school towards any member of staff or fellow student is unacceptable, disciplinary action will be taken.
The following steps are implemented:
An appropriate member of staff will speak to the student to try and resolve the problem
We will give the student a verbal warning
We will give the student a written warning
A meeting will be arranged with management to discuss the issue(s)
We will give the student a final written warning
We will expel the student from the school and no refund will be given (as stated in point 43 of the School Conditions of Enrolment)
Any issues / instances that you report will be recorded in writing and will be kept confidential as these documents will only be seen by management. We will do our best to deal with the situation promptly and effectively.
DONWLOAD THE NACEL ENGLISH SCHOOL'S SAFEGUARDING POLICY AND APPENDICES
Key contact list for professionals working with children and families in Barnet:
If you have any concerns about a child:
Children's Social Care Referral and Assessment Team
Tel: 020 8359 4066 / 4097
Opening Hours:
9am – 5.15pm Monday to Thursday
9am – 5pm Friday
9am to 12.30pm Referrals / Discussions / Advice with Duty Workers
1.30pm to 5pm Emergency Calls Only
Out of Office Hours Emergency Social Work Service (Including out of hours Child Protection Referrals)         Tel: 020 8359 2000
The Barnet Council Emergency Service Controller will take initial details and contact the appropriate out of hours officer.
Police Child Abuse Investigation Team (8am-6pm) Tel: 020 8733 5070
Barnet Safeguarding Children Board Development Manager
For advice and information about training, policies and procedures
Tel: 020 8359 4540      Website: Click here
For further guidance for professionals who are working with children and families in Barnet who may have a concern about a child, young person or unborn child can be found in: Barnet Children's Service CAF and Social Care Thresholds: A Guide for Practitioners in the Children's Workforce.
Childalert – Comprehensive advice and personal safety guidance for children.