About Nacel English School in London
We have been improving our students' English language skills in London for decades and we've established a great reputation for our English lessons and exam pass rates. At Nacel English School, our teachers are all highly qualified and use interesting and dynamic approaches to deliver great education in fun lessons.
Our Motto: Quality Education with Personal Attention
For those who want to study English in London and have the best experience, we provide:
great lessons,
comparatively low prices,
comfortable facilities,
and a safe environment.
Our academic staff carefully monitor your progress with ongoing testing. In addition, you get one-to-one tutorial support to ensure you study at the right level and make great progress.
Besides our excellent five-star rankings from Google and ninety-eight percent student satisfaction rate from the Independent Schools Inspectorate survey, our students have very high exam pass rates and show clear improvement in their understanding and use of English. Many go on to use what they learn with us to attain:
proficiency in English,
promotions at work,
better jobs,
or even new careers!
Nacel English School – A Great Place to Study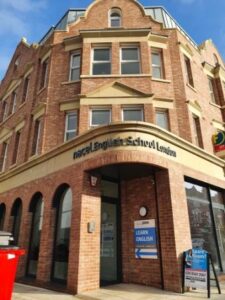 Occupying a brand new building on Ballards Lane, our North London English school is surrounded by numerous shops, restaurants, cafes, and supermarkets. What's more, we have:
sporting amenities,
banks,
and beautiful Victoria Park, which has several tennis courts and playing fields.
This allows our students to enjoy their free time outside of school.
The school is well located in Finchley Central (on the Northern Line of the London underground) in the Barnet region of London. It's a quiet, leafy, residential area with plenty of shops, bars, cafes, and restaurants nearby. You can explore them after your classes. Finchley also has very good transport links to the city centre, both by bus and metro.
Our students may use any of the bus services to get to school; they all stop at Ballards Lane where the school is situated:
326 Bus: Brent Cross–Hendon–Finchley Central–East Finchley–Barnet–Potters Bar
460 Bus: North Finchley–Finchley Central–Golders Green–Cricklewood–Willesden
82 Bus: North Finchley–Finchley Central–Golders Green–Victoria
143 Bus: Brent Cross–Hendon–Finchley Central–East Finchley–Highgate–Archway
125 Bus: North Finchley–Finchley Central–Southgate–Winchmore Hill
The closest bus stops are :
Finchley Central (Stop C),
Saimanl Ltd
and Long Lane Finchley Central (Stop B).
We can provide student accommodation or help you find a convenient place to stay in the following areas:
East Barnet,
Southgate,
Enfield,
Wood Green,
Barnet,
Potters Bar,
Hendon,
East Finchley,
or Golders Green.
Book your English course in the Barnet area at Nacel English School London.
Extra Benefits
When you book a course with us, you also gain access to our social programme and online course. The social programme includes trips to fantastic London landmarks and attractions every week. Plus, you get vocabulary to help you understand and enjoy the experience. A teacher accompanies every group when exploring London. Our online course gives you access to extra study materials to help you improve your English faster.