How to talk about Coronavirus in English?
How to talk about Coronavirus in English? A short vocabulary lesson by our English teacher.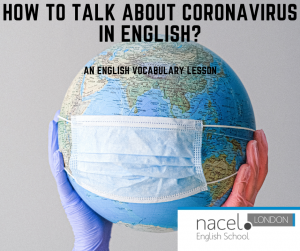 Our lives changed dramatically because of the pandemic. You may have to talk about the Coronavirus in English with your colleagues, teachers or maybe you read articles about the pandemic in English.
The COVID-19 pandemic actually created or highlighted many new English words, expressions and vocabulary: lockdown, pandemic, to go into quarantine, spread the virus, masks, social distancing measures etc. Our daily conversations are now full of these new expressions that we never used before!
One of our teachers created a FREE online lesson to teach our students about the way they may talk about Coronavirus in English. Learn with her the new vocabulary and the way British people speak about the Coronavirus.
Pretty useful nowadays! Watch now!
Some additional words that you may have heard about:
Spread
Contact tracing
Flatten the curve
Patient zero
Isolation
Incubation period
Droplets
Asymptomatic
Immunity
Novel coronavirus
Vaccine
Do you know them all?
The English language is so dynamic that people even invented some "shortenings" like:
"sanny" for hand sanitizer
"iso" for isolation
"BCV" for before coronavirus
"WFH" for work from home
As well as combination of words: "coronials" is for example a combination of corona and millenials and refers to a generation. Or "covideo party" that you may have experienced yourself? 🙂
Have you already heard about them?
Source: https://theconversation.com/iso-boomer-remover-and-quarantini-how-coronavirus-is-changing-our-language-136729
Some more resources available online about English language and Coronavirus:
Nacel English School London really much hopes that the COVID 19 pandemic will soon be behind us!
We continue to offer hybrid English classes in London: you may attend our English courses face to face, if you already live in London or learn English online. Our English teachers are waiting for you!