Top 5 reasons to choose a homestay for your English course in London
You would like to take an English course in London but need accommodation? Have you contemplated the option of living with a host family in the UK ? Choosing a homestay for your English course in London is an amazing opportunity for you to discover the British culture while continually practicing your English!
Do you need to be convinced that a homestay in London would be the right choice for you to make? Here we are!
Top 5 reasons to stay with a British host family while you learn English
Live the British way of life
Choosing a homestay in the UK while you're taking an English course in the city will allow you to fully live the British life! Learning English is fun, but discovering a new culture at the same time is better! Staying with a host family in London is definitely a rewarding educational experience. You will be introduced to a new home and new traditions which can only enrich you!
Taking an English afternoon tea and eating scones, sharing British meals and spending time with your host family in the evenings and on the weekends will allow you to see and experience how a typical British family live. You will create unforgettable memories and build a special relationship with the people who host you!
A homestay in London is a guarantee to be guided and advised and thus, to live the best experience possible! Your British host family will also give you recommendations and special tips to live the London life! They will give you advice on how to use the underground for example, suggest museums or attractions that you must see and that tourists usually don't know about…
Choosing to stay with a host family in London while you're taking an English course will add a cultural and human dimension to your stay in the UK!
Improve your skills in English
If you come to London to attend an English course, you will obviously learn English in class. But isn't it better to get the opportunity to develop your knowledge of English in your everyday life with a British host family?
Staying in a homestay in London will allow you to hear and speak British English after you finish your class and on the weekends. You will develop your skills in listening and speaking, as well as your vocabulary! Host families in the UK are used to welcome international students and do their best to communicate with them and help them practice their English in real life situations!
Home sweet home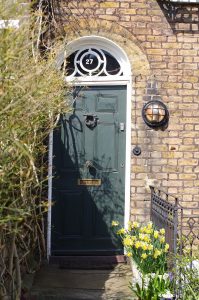 It might be hard to make friends and meet new people when you've just arrived in a new country. It's also common (and totally normal) to feel homesick at your arrival. Living with a host family in London will help you adjust to life in England! Your host family will help you make new connections and introduce you to local people! It will make your experience way more profitable!
A homestay is actually like a home away from home. Meals are taken care of, your bed sheets and towels are washed by your hosts, you can usually use their WIFI connection… British host families do their best to create a homely environment for you to enjoy your stay in London!
A homestay in London is also very convenient as your new home is usually near the school you go to. At Nacel English School London, we guarantee a maximum distance of 4 underground stops between the host family accommodation and the school, and many students usually walk to school.
Make some friends for life
Not only will you create special relationships with your hosts, but you will also easily bond with the other students who will live with you or near you! At Nacel English School London most of our host families live in big houses and have more than one room available. This allows for 2 or more students of different nationalities to stay in single rooms with the same host family in London. This create a sort of "international friends community" for our students to go out and come to school together. Since our host families live in the same area of London (Barnet area and surroundings), it makes it easy for students to meet up and go out in the evening or on the weekends.
You usually keep the friends you make while living abroad forever, and this is an opportunity for you to make connections with people from all around the world and to keep speaking in English even after your stay in London has ended!
A homestay for your English course: A very good value for money
In addition to all the advantages that staying with a host family in the UK can provide, a homestay in London is one of the cheapest options for students when it comes to finding an accommodation in the city. A British homestay also includes breakfast and dinner which is very convenient.
At Nacel English School London, 80% of our students choose to stay in a host family while they're in London and it remains one of the best experiences one could live while in the UK! Do not hesitate a minute.