Meal routine in England: What will I eat with my host family in England?
You absolutely love food, and you are scared of what your British host family will cook? You have no idea what is usually cooked in a homestay in England? Do not worry, we are here to help you understand the meal routine in England!
Each family has their own habits and favorite food, but there are some meals that you will definitely try while you live with a host family in London! Here is a little list of what British people traditionally like to eat.
What is the meal routine in England?
English breakfast
The full traditional English breakfast consists of sausages, bacon, eggs, mushrooms, tomatoes, toasts and a cup of tea or coffee. Your British host family might eat it sometimes, but it is quite common in England to eat cereals or some toasts with butter or jam, as well as tea or coffee.
Popular meals in the UK
Your host family will probably cook traditional British food but also classic and popular international meals. Here is a little list of the most popular dishes in the UK that you will probably try while you are living the British life in your homestay!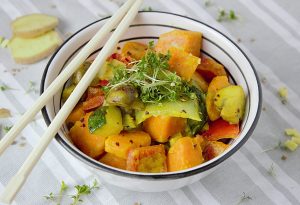 Curry is an Indian meal that is composed of meat cooked in a curry sauce and a lot of different spices. It is usually served with rice. It is one of the most popular food in the UK!
Cottage pie consists in mashed potatoes with minced beef. Both are cooked with onions and gravy and then covered with some grated cheese on the top. You will generally eat a cottage pie with green vegetables.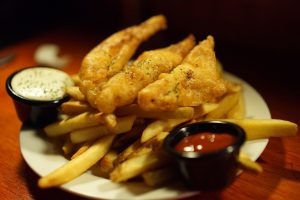 It is probably the first thing that comes to everyone's mind when it comes to British traditional food. It is composed of deep-fried fish with chips. They're seasoned with salt and vinegar and accompanied with a special sauce.
The steak and kidney are cooked together with onion and stock. They're covered with pastry, put into the oven and then served with vegetable! This dish is quite heavy and is usually cooked in winter.
It is usually served for lunch on a Sunday. A variety of meats can be used to cook it but it is usually roast beef with Yorkshire pudding, horseradish sauce, but also roast potatoes and vegetables.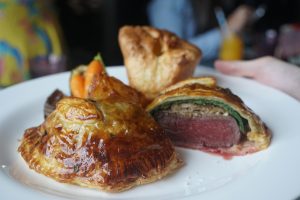 This meal is inspired by the French fillet of beef in pastry. Before being rolled in pastry, the fillet of steak is coated in pâté.
Of course, many British families eat rice, salads and pasta, just like you in your everyday life ! Feel free to share what you usually eat back in your home country with your British host family! You will both learn from each other!