Top 5 Advices to make your kids LOVE AND LEARN English in London!
Updated April 26th 2021. You may have read our last article about how we welcome families at Nacel English School London, especially those families who wish to learn English in London. The school developed a dedicated course of English for kids. Learn more! We also wish to give you our Top 5 advices to make your kids LOVE their London experience…and the English language! 
English for kids: discover our online English course for children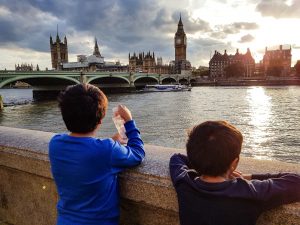 Our teachers developed a specific English course for children. They make it live, interactive and fun so that you children become enthusiastic about learning English. The course may be one to one or a group class with other children. We offer different classes depending on ages:
6-10 years old: Young Learners
11-15 years old: Teenagers
What are the benefits of the course "English for kids":
Your children are encouraged to express themselves in English;
they learn vocabulary and useful expressions;
they discover the culture of the United Kingdom.
Interested in a live English course in London with your family? Read our advices to make your family stay in London an enjoyable one!
Top 5 advices to make your kids love their language experience in London
Live with a British host family: while our families could have chosen to book a family room in a nearby hotel in Finchley (we have some very good addresses! :-)), we advised them to opt for a British host family experience. This homestay experience allows British culture and way of life to become REAL for your kids. It is much more than learning about it, it is all about LIVING it!
"Watch" English: Before your journey to England…or during the flight 🙂 have them (you may join them to brush up your English!) watch an animation movie in English. It must be a movie that they know in their own mother tongue…by heart! Kids can watch the same movie so many times until they know every single sentence by heart…Use this to make them feel they can actually understand a movie in English. This will be a POSITIVE and VISUAL experience of the language, the best way to encourage them to learn English while in London.
Create a Role-Playing Game for your family: immerse your family into the British culture and the English language. To do so, and to make it FUNNY, each member of the family should play a role. You are no more the French family Martin, your first names are not Denis, Jacqueline, Marion and Laurent anymore! You are Mr and Mrs Adams, your first names are George, Maddison, Sarah and Jasper! If you are full of IMAGINATION and FANTASY, the game may last for quite a long time…or never end! 🙂
Make your London Tourist Experience ATTRACTIVE for your kids: select some visits that will be appealing for your kids, from which they will keep their best memories. Some cultural visits can be a bit boring for younger kids, even if museums or castles try to adapt to this generation and offer specific material for them. Check the touristic offers for children.
Buy them their own Travel Guide: the offer is huge! Travel Guide editors have edited plenty of travel guides specially designed for kids, explaining History and Culture with easy sentences and vocabulary, as well as drawings. Some Travel Guides also combine explanation and games: those games may be language games, helping your kids to learn English in London.
London and English for kids? Help them discover the British culture and learn English in London.