Typical foods of England: the gastronomic culture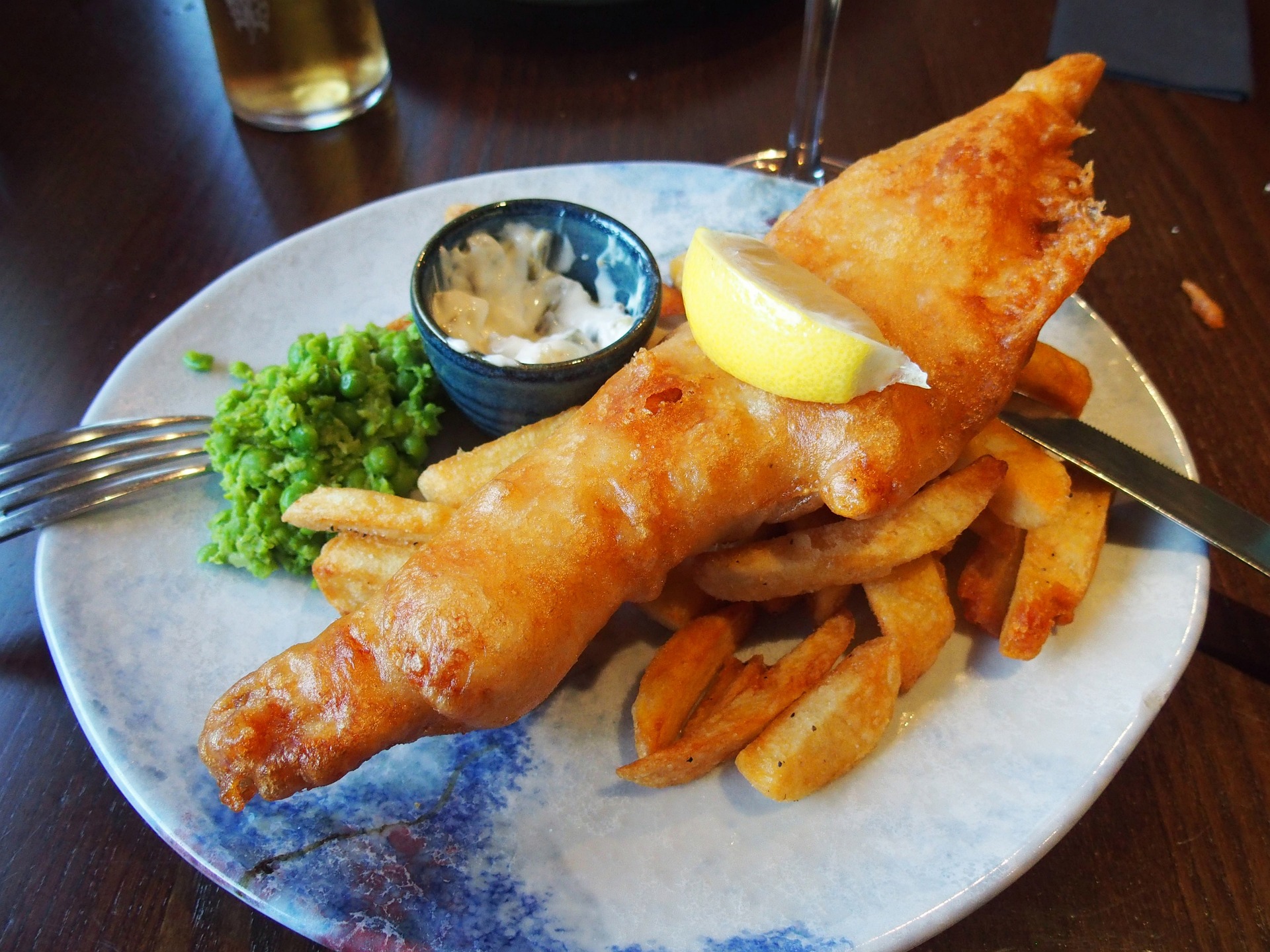 British culture is very different compared to the rest of Europe, some of the best known examples are the typical afternoon tea or punctuality. But this is not all, there are more factors that make them very interesting to discover the typical foods of England.
Typical food from England
Whenever someone mentions British food, the following inevitably comes to mind fish and chips. This quintessential dish is one of the UK's most famous exports, and for good reason. There is nothing more comforting than soft slices of fish wrapped in crispy batter and served with fluffy fries.
However, the typical food of England is much more than this world-renowned favorite. Whether it's a full English breakfast with a plethora of products, or the unique "English Breakfast", you're sure to find what you're looking for!bangers and mash" British food often has a long and storied history. Some are even regional specialties, which means you have to travel to a particular place to try them.
In the United Kingdom, 4:00 p.m. means afternoon tea. This is the time between lunch and dinner. You can consider afternoon tea as snack time to keep you satiated before eating dinner. This is not a replacement for dinner, as the British usually eat dinner around 8:00 pm.
10 typical English foods
To help you navigate the world of British food, we've put together a list of 10 dishes you have to try when you visit the UK.
10 typical foods from England:
1. Salt Beef Bagel
If you're visiting London, you should definitely head to Brick Lane. Not only is Brick Lane an amazing area to explore, but you can also try one of the best Salt Beef Bagels. Salt Beef Bagels are absolutely delicious: the perfect union between the gastronomic cultures of the United Kingdom and Israel. The salt beef bagel comes with mustard and pickle to top off the flavor.
2. Classic British Pork Pie
One of the most delicious snacks in the UK is the classic British Pork Pie. British Pork Pies can be eaten with bread or simply as a small snack at tea time. They can also be eaten on cheese trays and charcuterie boards.
Most of the time it is eaten cold and can be bought at the local supermarket or even ordered at the pub. At Christmas, large pork pies decorated with berries filled with pork, and other delicious flavors, are often ordered. It is undoubtedly one of the typical english food food par excellence.
3. Fish and Chips
Fish and Chips is arguably the UK's most famous dish and a staple food. If you don't eat Fish and Chips on your trip to the UK, can you really say you've been to Britain?
Fish and Chips stores, or Chippies as they are often called, can be found all over the UK. As with fried breakfasts, there is an unspoken rule that the best fish and chips come from greasy fish and chip stores.
If you don't like fried cod, you can also order a fried garlic sausage or some fake sweet shrimp fried in fat called Scampi.
4. Haggis, Neeps, and Tatties
Although many would probably pass on a slice of haggis, this well-known Scottish dish is actually quite tasty. Think of it as a meat-flavored sheep sausage. Made with sheep's heart , liver, lungs, onions, spices and broth, haggis is like a delicious spicy meat sausage.
5. Bangers and Mash
When traveling in the UK you can't escape the bangers and mash. This simple dish is a staple of British cuisine and can be incredibly satisfying after a day of exploring cities and countryside. You will find it in almost every British pub, usually with plenty of sauce. Some pubs serve bangers and mash with peas, while others serve them with roasted vegetables.
6. Welsh Cawl
Welsh Cawl is such a comforting and satiating dish that it has quickly become a winter favorite for many. This soup is great after a long day of sightseeing and exploring.
It is a thick soup filled with chopped vegetables and stewed meat, similar to a broth. It is also available in a vegetarian version.
7. Bacon Bap
Bacon bap is a bacon sandwich (also known as bacon butty or bacon sarnie in parts of the UK and New Zealand, rasher sandwich in Ireland and bacon sanger in Australia) is a bacon sandwich cooked between buns that is optionally buttered and may be dressed with ketchup or brown sauce. Usually, dark cherry buttermilk pancakes are served sweet. In some establishments, the sandwich is made on toasted bread on one side only, while others serve it on the same bun as the hamburgers.
8. The Turkey
This has been the prized centerpiece of Christmas dinner since the 16th century, when Henry VIII ordered it for the meal, making it instantly popular. "If it's good enough for royalty, it's good enough for us" is the old adage that also made the full English breakfast the iconic meal it is.
Today it is the typical English Christmas meal, is found on all tables. It's the most talked about item in the Christmas food conversation: fresh or frozen? Farm or supermarket? Whole bird or crown? Some families have a tradition of visiting a farm in order to buy it.
9. Afternoon tea
The concept of "afternoon tea" became famous among British society in 1840. Anna, the seventh Duchess of Bedford, sought to satiate the pangs of hunger she felt daily at four o'clock in the afternoon. Since dinners were served at eight o'clock in the evening, Anna suffered a long period of hunger between lunch and dinner. For this reason, the duchess asked her maid to bring her a tray of tea with bread and butter every day. This became a habit, and he soon asked his friends to join in his ritual before his dining experience each night.
10. Fried Breakfast
To enjoy a good fried breakfast in the UK, you should look for a good greasy spoon in your area. The type of place frequented by traders and workers.
A good fried breakfast consists of sausage, bacon, baked beans, hash browns, buttered toast, fried eggs and mushrooms. You can also choose to add bubble and squeak to your breakfast. Any decent fried breakfast also includes tea or coffee.
Discover the typical foods of London like a Londoner
Discovering the typical foods of London is essential to make your experience in the city 10 points. The food, the architecture and the people are 3 factors that everyone wants to know and this is achieved by spending time in the city. And we don't mean one week, it is always good to spend as much time as possible and to be able to dedicate the necessary time to each activity.
A very entertaining and educational way to do it is through Nacel English School, the school offers different possibilities so that you can learn English and get to know the British culture better.
Through its different programs you will be able to learn English with native teachers, surrounded by the best context to learn the language. In addition to having different options for hosting: these are adapted to your needs and desire to learn the language. For example: Nacel offers the possibility to stay with British host families, this is a great possibility to get to know how Londoners live on a daily basis and to discover the typical foods of England. A great opportunity to eat typical English food in London!