Summer English Courses for Drivers in London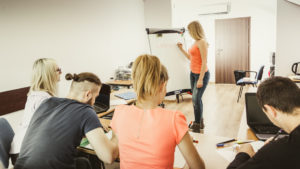 One of the things we absolutely love about London is the diversity. Did you know that the city of London alone encompasses more than 270 nationalities and over 300 languages?
And the trend is set to continue. In British schools, there are classrooms where a huge variety of language exists.
In some schools, Polish, Bengali, Somali, Gujurati, Arabic, Tamil and the Afghan language Pashto may even be spoken ahead of English. It is great for culture, but all this diversity can make it difficult to get the message.
Luckily, there are summer English courses that make understanding and speaking English easy. For drivers especially, you need to know how to get directions, find out destinations, and provide great customer service to your passengers.
Summer English courses can help you be a better driver. But being able to speak the language is also the law for drivers in London.
The Law and Summer English Courses
Most drivers in London know that new and renewal licenses for private hire now require that drivers are able to communicate in English at the appropriate level.
In order to be in compliance, drivers need to demonstrate proficiency in English. What many drivers don't know is that this summer is an ideal time to prepare.
Summer Engish courses will help you meet the new deadline.
A New Deadline
Did you know that Transport for London changed the requirements for English for our private hire drivers?
Initially, drivers were required to meet the new English language requirements by 31 March 2017. This date has been extended until 30 September 2017.
This gives drivers a great opportunity to use the summer to prepare for their certification.
Transport for London has estimated that 33,000 private hire drivers will lose their licenses as a result of the new rules. Don't let that happen to you.
Make sure you have the best preparation for the certification.
Don't Delay
Almost all of London is aware now that there are changing regulations surrounding private hire driver's licenses. Unfortunately, all the news has made the deadlines and requirements seem confusing.
Many drivers have waited to get certified or start preparing because they hoped the law would be overturned.
Large companies like Uber even took on the courts, hoping to remove the English language requirements.
But those efforts were unsuccessful. In March Uber lost its case.
London drivers will need to be tested on their English skills according to the law.
In order to avoid losing your license, it's important that drivers no longer delay. The time is now to start preparing to provide evidence of your English proficiency.
Providing Evidence
Not everyone needs to take the test. Transport for London states that if you went to school in the UK you can provide certification of your English that way.
They will accept qualifications from:
UK GCSE grades A* to G
UK O level grades A to E
UK CSE grades 1 to 5
UK AS level/A level
UK NVQ/BTEC/City and Guilds qualification level 1 or above
UK HNC/HND
UK degree or higher (e.g. master's, PhD)
But not every driver in London went to school in the UK. If you need to take the test you want to make sure you are prepared.
Getting Certified
If you don't meet the qualifications for UK students, you will need to get certified. One way drivers can fulfill this certification is through a 3-hour test.
These English language tests for drivers include assessments for reading, writing, speaking, and listening.  There are a number of locations where drivers can take the test.
And there is no limit to the number of times you can take the test. But due to the deadlines, you need to make sure you have prepared ahead of time.
Failure to pass the test or receive certification will result in a loss of license.
Preparing for the Test
If you feel like your English skills aren't sharp enough to pass the certification requirements it is scary. You may be worried you will lose your license and lose your livelihood.
Since the test assesses your abilities in many facets of English, you need to be prepared for all of these.
Preparing for the test properly will include listening, reading, writing, and speaking. These qualifications make it safe and effective to deal with clients and passengers while acting as a driver.
Luckily many courses aren't time-consuming. These classes understand your needs and the testing.
They will find out where your current skill levels are and work to increase our fluency in English.
These experts in the language know how to make you better at English. With the best teaching and training, you will be prepared.
There are many schools you can attend to get prepared. Unfortunately, these schools differ in pricing and results.
If you want the best overall value it is important you find the best school.
The Best Prep
Nacel English School London has earned our reputation for the best teaching methods.
We help students get better jobs, change careers, and gain the ability to use their newly acquired skills with confidence. We achieve this by means of a comprehensive teaching method that is structured, enjoyable, and rewarding.
For anyone who wants to learn English, Nacel can help. And we are the best choice for private hire drivers in London.
The requirements for private hire taxi drivers are new. But we can help all private hire taxi drivers fulfill the requirements of Transport London.
Private Hire Taxi Drivers and English Requirements
Nacel English School London provides an Exam Preparation Course for English for Private Hire Taxi Drivers. Our preparation course guides drivers through the exam process.
We will ensure your best chance of success.
We have experienced teachers who will explain the content of the exam. We will also test your English, make necessary language recommendations, and train you.
You will be better prepared when you take the test at a recognized test center.
Don't delay to start preparing for your test. Contact Nacel English School now and discover how we can help you prepare for your exam with our summer English courses.