6 Economic Benefits Of Taking A London English Class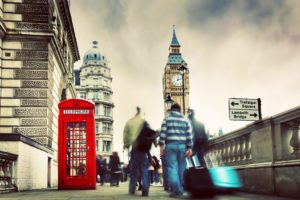 Want to learn English in England but don't know whether it's worth the trip?
London is the perfect place to learn a second language. Learning English in London provides ample time to put your new skills to work while enjoying life in one of the world's most interesting and cosmopolitan cities.
London English classes are more than just a vacation – they're an investment in your future.
Keep reading to learn the six economic benefits of taking a London English class.
1. London Is Social
One of the hardest parts of learning a language at home is there's no one to practice with.
Learn English in London and you'll have not only your classmates but the whole city to practice with. Whether you're ordering coffee, catching the tube, or enjoying one of the hundreds of social events taking place every single night in the capital, you'll never run out of people to talk to.
When you're practicing your new language skills in a social hub like London, you never know who you'll meet.
You'll certainly make lifelong friends from around the world. But you could also meet a future employer, business partner, or a connection to your dream job.
The best part? You'll be able to communicate with them in their own language and in their own city.
No matter what your interests are, you'll find your way chatting yourself into a new job or even a new life.
2. Businesses Speak English – And Businesses Love London
English is the global language of business. Even companies based in Germany, China, Japan, and Mexico that have international offices conduct official corporate business in the English language.
Speaking English is a huge advantage if you're on the job hunt for a place in a multi-national corporation. Not only do these companies want someone who knows the local market, but they also want someone who's willing to engage with the global market in a common language.
What does this have to do with London?
These same multinational companies love London. Two out of every five of the 250 biggest companies in the world who have European headquarters chose London to call home.
It's true – the city is home to five times as many European headquarters as the city of Paris.
The number grows even larger when you look at non-European companies. International corporations with a European HQ choose to set up shop in London 60% of the time.
3. Bring English to Your Home Economy
Want to help grow your country's average salary by 30 to 50%?
London English classes provide you with more than language skills to navigate Anglophone worlds. They provide you with skills to take home and improve your home economy.
Research has shown a direct correlation between a country's English skills and the country's economic performance.
When a nation has better English skills, its GDP and gross national income (GNI) both go up. Additionally, growth in English proficiency is correlated to a rise in per capita income.
Learning English allows you to contribute to economic growth in your home economy. By taking those skills home with you, you're contributing to the rise in English proficiency levels that make everyone better off.
4. Get Better Access to Jobs
Live somewhere where English isn't a requirement for most – if any- jobs?
Your London English classes are still useful.
Even if you're looking for a job that doesn't require you to know or speak the English language, it's still a stepping stone for better-paid jobs.
A job doesn't need to mandate English as an 'entry necessity'. Once you're in the role and a new job comes up that requires English, your employer may turn to you to fill the position.
5. Embrace Local Community in London
Moving to a new country to learn their language can be scary. You're all alone, and in most cases, you don't have anything to fall back on when you don't know a word or forget how to put together a sentence.
For some, studying abroad may feel like six months of being isolated from your own culture. While it's great to learn new ways of doing things, there's no place like home.
However, you're never truly alone in London. No matter who you are or where you're from, you'll find true community in North London.
England's capital is one of the most diverse cities in the world. If you need a break from British food, you'll find a restaurant or even whole street of restaurants that make food just like your family back home does.
In fact, you may find yourself wrapped up in the London expat community, getting to know people, learning how to transplant your culture to England, and finding new ways to appreciate everything you love about home.
It doesn't matter where you're from – London is never too far from home.
6. Build Important Soft Skills
English skills are some of the most marketable skills you can arm yourself with. It's the easiest way to raise your salary by 25% and open up a whole new world of possibilities.
But the soft skills you learn during your time abroad are also valuable.
By traveling to London, you're learning how to embrace change and take on challenges in different cultures. You're also learning:
Adaptability
Flexibility
Problem Solving
Creative Thinking
Team Work
These soft skills will serve you in your everyday life. But they'll also serve you as you look for a job.
Employers don't just want someone with good grammar or excellent coding skills. Team players who think outside the box are also highly – if not equally – valued in the marketplace.
London English Classes Are Enrolling Now
Whether you're looking to increase your salary by 25% or make lifelong friends in one of the world's most dynamic cities, there are plenty of reasons to take London English classes.
Are you a university student hoping to transfer to a UK university? Maybe you're looking for a course in professional English. NACEL offers English courses suited for any level and any purpose.
Look through our course guide to find the next available course – it may be the perfect one for you.