Why Studying English Abroad is Extremely Beneficial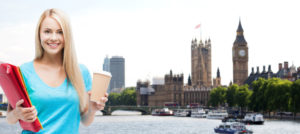 Are you looking to make the most of your college experience? You might want to consider studying abroad.
The world's international student population is on the rise. There are over 3.7 million international students and the numbers are increasing by 12 percent every year.
Studying abroad can be intimidating, especially if you don't know the local language. But taking the plunge and enrolling in a foreign country can be extremely beneficial.
That's especially true in London, England. This welcoming city is home to many international students trying to learn English.
Study in London and learn where English came from. You can reap all the amazing benefits that studying abroad can give you as a young student. Read on to learn why you should enroll in a London English course.
Language Immersion
Learning a new language is never easy. But you don't have to limit your studies to the classroom.
Language immersion is one of the best ways to pick up English. When you study in London, you'll be completely surrounded by the English language.
Your coursework is just the beginning of your language studies. You will have to use English in your day to day life and interactions with locals.
This might seem like a difficult way to learn English. But immersion can be much more effective than classroom studies. You'll learn to read, write and speak English much faster by surrounding yourself with English speakers.
Better Job Prospects
The world economy is becoming more reliant on international workers. By learning English, you'll have a big leg up on your job competition.
The number of online job postings targeting bilingual workers more than doubled between 2010 and 2015. Speaking multiple languages is a huge plus for hiring managers.
Your English skills can help you get hired and even earn higher salaries after you graduate. Learning a second language can open up a world of possibilities that you might not have qualified for before.
Networking
There are many economic benefits of choosing to study in London. But there are also intangible benefits to taking the plunge.
One such benefit is networking. During your studies, you'll make a number of new personal connections. Your everyday interactions will be with fellow students, professors, and locals.
International universities are a great place to meet people. Your new network can be a support system as you search for career opportunities.
Aside from professional benefits, networking can be rewarding on a personal level. You can make lifelong friends during your study abroad adventure.
You will find people from different cultures and backgrounds when you study in London. You will build relationships with people outside of your current social circle.
Your international connections will last long after your program ends. These people can be valuable in your personal and professional life for years to come.
International Training
The global workforce is more interconnected than ever. As a result, it's important to look for international learning opportunities before you hit the workforce.
You will gain valuable international training when you study in London. Not only will you meet new people, but you'll learn a wealth of new skills.
Studying abroad will also make it easier to pursue international work opportunities. You can add your study abroad experience to your resume. This will make you more marketable to international employers.
Your study abroad experience will be challenging. But it will show that you can overcome the challenges of learning in a foreign country.
Grad School
Your studies don't have to end when you get your undergraduate degree. Many study abroad students seek more learning opportunities through higher education.
Studying at an acclaimed international university will look great to admissions officers. This can help you gain acceptance to grad school programs.
Your study abroad experience will give you a leg up on your competition during the application process. It will make you look well-rounded, experienced, and diverse.
Grad school programs are more competitive than undergraduate programs. You can help your chances of enrollment by signing up for international study opportunities.
Cultural Experiences
There's no shortage of tourist activities in London. But there's more to this city than Big Ben, the Tower of London, and Buckingham Palace.
You will have countless opportunities to explore the English culture. You will learn all about local food, art, music, and customs.
There's no shortage of unique cultural opportunities in London. By living like a local, you will get a better understanding of everyday life in England.
Study abroad can be an eye-opening experience for students. You can gain a greater appreciation for new cultures during your trip.
Travel the World
Study abroad can help you learn a new language, score a new job, and learn about new cultures.
But one motivating factor for many study abroad students is to see the world. Your trip will give you great opportunities to travel.
You don't have to limit your travel to England. You can get access to affordable travel throughout the rest of Europe. Destinations like Amsterdam, Madrid, and Paris are just a quick flight away.
Study abroad has helped millions of young students travel to international destinations. But traveling isn't all sightseeing and exploring. You will learn valuable tools about international travel.
This once in a lifetime experience will stick with you for years to come. It can also open your eyes to the rewards of international travel.
Your Study in London
London is a great place to study abroad no matter your background. Your trip can help you become fluent in English while also opening your eyes to a new culture.
Study abroad can also help you become more marketable before you hit the job market. Your experience can help you find local work, international opportunities, and graduate programs.
You will also gain access to unique travel and cultural opportunities that can change your life.
Are you interested in studying abroad in London? We can help.
We can answer your questions, provide assistance, and help you enroll in your study abroad trip. Contact us to start your adventure today.