8 Things to Do in London on Summer School Holidays 2018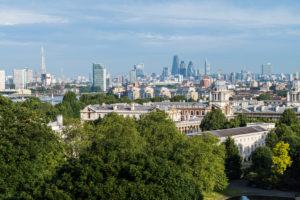 Attending a summer English program in London is not all about studying.
The city is home to a world of adventure. No matter if your interests are in food, fashion, culture, or history, there are many things to enjoy while not in class.
However, the balance between being a student and a tourist can be difficult. This is why you should take advantage of school holidays 2018 as much as possible.
Holidays are a time to be free and not worry about assignments or lectures. To best make use of this special time, here is a list of eight things to do on holidays in London.
1. Go to Regent's Park Open Air Theatre
London has been a cornerstone of the entertainment world for centuries, and in 2018 the legacy lives on. Home to some of the best theatre troupes and performances, London lives and breathes this art all around the city.
One of the best ways to discover what the city's stages have to offer is attending a play at Regent's Park.
The open-air theatre truly adds to the spectacle of the experience, making it a quality choice for one of your school holidays 2018.
2. Dance at Notting Hill Carnival
Notting Hill Carnival is the biggest street festival in the entire city.
Taking place in August 2018, it is the ultimate Caribbean experience on this side of the pond. Every year, beautiful floats and fun colors get the festival started as dancers and guests alike enjoy the spirit of Carnival.
There are over 50,000 performers planned for summer school holidays 2018, which means this weekend is not something to miss.
Don't forget to try authentic Caribbean food while attending!
3. Discover London History
Not only has London been a major point of influence throughout history, it is also a modern-day door to go back in time.
Be sure to spend at least one of your school holidays 2018 diving into the knowledge available all around you.
Maybe you choose to spend a day walking through a special exhibit at the Victoria and Albert Museum. Maybe your creative senses will be on fire as you walk through the Design Museum.
Or, for a more student-friendly choice, opt for a day at the British Museum free of charge.
4. Explore Street Tastes at Food Festivals
It only takes a few days to realize London is a food lover's dream.
No matter the kind of food you like, how much you want to spend, or the hour of the day you prefer to eat, there are many delicious options waiting for you.
However, most students attending London summer programs get into a routine and tend to eat at places near school. This makes summer holidays 2018 the perfect excuse to treat your taste buds.
Choose from the Hoxton Square Picnic, Carnaby Street Eat, or of course, the Foodies Festival.
Those looking for a booze buzz may enjoy choices like the Great British Beer Festival or the London Craft Beer Fest.
5. Start the Party at a Music Festival
If dancing and music are more exciting than cuisine, check local lineups for music festivals.
Summer in London is prime time for big artists to come together at many different music festivals. The most popular include Glastonbury and Field Day in early summer and South West Four at the end of August.
Musical styles range from the best of pop, rock, and r&b to soulful sounds and reggae vibes. In a city with so many musical influences, there is bound to be a festival playing your kind of tunes.
6. Make Time for Tea
It wouldn't be a summer spent studying in London without a few activities to live like a local.
One of the most traditional English activities out there is tea time. Although there are a few different forms of enjoying tea time, the most common is afternoon tea at around 3 or 4pm.
Tea time is great for a special sitting of two people or a group outing.
Expect to enjoy some of the finest finger sandwiches and sweet treats available, while sipping on delicious drinks.
Before you go, be sure to brush up on your table etiquette and check available reservations. Some places in London will have lines out the door while others may be able to take you upon arrival.
7. Relax at the Southbank
With so much studying to do, one of the school holidays 2018 may sneak up on you.
No worries, you can always count on a day at the Southbank to deliver a quality time.
Stroll by some of the city's most iconic sights like Big Ben, the London Eye, Trafalgar Square, and St. Jame's Park. Be sure to stop at markets and check out street carts along the way.
For those who like to plan ahead, save visiting the Southbank for the Underbelly Festival.
Unlike any other festival in town, this is a lineup of comedy, circus acts, family entertainment, and even cabaret. Watch live acts, enjoy delicious vendors, and grab a drink or two!
8. Get Outside
No matter what school holiday it is, you can never go wrong with a day enjoying the beauty of London's nature.
This may look an afternoon picnic in the park, a jog along the river, or a day on the water. Water activities can be anything from kayaking and paddle boarding to even boating or fishing, just depending on where in the city you go.
For something out of the ordinary, take a trip to visit the Sensational Butterflies at the Natural History Museum or discover the hidden secrets within the Magic Garden at Hampton Court.
Plan Your School Holidays 2018
This summer, take advantage of all the opportunities your time at school can offer.
Beyond the learning and networking, don't forget to discover all the best things London has to offer. Treat yourself to the food and the fun, and remember to be open to new experiences!
No matter what you choose, your school holidays 2018 are sure to be some of your favorite memories from studying in London. All it takes is a little planning and a big sense of adventure.
Plus, getting out and about is a great opportunity to practice your English!
For more ideas on social outings and what activities to add to your London bucket list, click here.