7 Reasons to Study English in London This Summer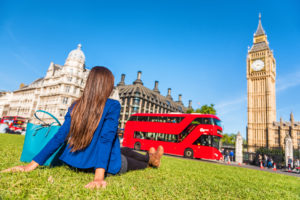 English is one of the leading languages of the world.
In fact, it's spoken by more than 1.5 billion people in over 90 countries.
So it's not a surprise that learning English helps you get ahead in your business or education. The only hard part is figuring out where to actually study it.
But when you start thinking about it, you'll realize you don't really have to make a choice at all.
Check out these seven reasons why you should absolutely study English in London this summer!
It's Easy to Learn English
There are a lot of things about London that make it a great place to learn English. You definitely won't have to struggle to find a study buddy.
1. Constant Practice
Everyone living here in London speaks English, so whenever you buy a cup of coffee or hop on a bus, you are practicing the language.
This helps you learn how English is spoken outside of the classroom and lets you digest and remember the language. When you're studying a new language but only get to practice in a classroom, it is easy to forget the language when you leave that specific room.
But you never truly leave the classroom in London.
You Can Even Get Paid
Many English summer courses leave plenty of time to get find work, and by interacting with your coworkers and customers, you'll pick up the language quickly and make some cash at the same time.
As an added bonus, you'll also find multiple different accents in the same city, something you're less likely to find in other English speaking countries. Though they may be confusing at first, interacting with multiple English accents lets you get familiar with all the different ways English is spoken.
Ultimately, the best way to learn a language is to consistently speak and listen to it, and when you study English in London, you interact with native English speakers everywhere you go every day.
2. Interactive Teaching
London has been teaching English classes longer than any other country.
English teachers are more than familiar with the subject and they introduce unique learning styles in their classrooms. Instead of focusing on lecture or grammar, teachers involve the whole class in conversations, debates, and discussions.
The goal isn't for students to simply learn the language. Teachers want their students to retain what they've learned, so they teach English in realistic settings, like how to communicate in everyday conversations.
And don't worry about homework. Teachers here bury you under tests and assignments. Again, and get used to it, the best way to learn a language is to speak it, so the class grade is based off one paper at the end of the term.
This may seem daunting if you aren't used to this teaching style, but the lack of homework gives you the freedom to practice English in the real world instead of struggling with it in your room.
Supplement Your Learning With History
Learning how to say English words is great, but understanding the background of English words is better.
3. London's History and Culture
There's a lot of historic sights here in London (a whole summer might not be enough time to see them), but most of them aren't far away.
You can get to many of these places with a quick bus or train ride. The historic monuments and locations in other English speaking countries, like the United States of America and Canada, are spread out. You would have to take several plane rides to see them all.
We don't have that problem here! In London, you don't have to take a single plane ride to visit places like the Tower of London, Stonehenge, or Windsor Castle. You can even visit places like Paris, Brussels, or Lille with a simple, inexpensive train ride.
Some summer programs will actually travel to a few of these locations as part of the curriculum.
Exploring ancient history in London will help you better understand the English culture and language. No matter where you go, you're likely to see traces of old history.
4. Birthplace of the English Language
Speaking of history, London is a great place to study English because the language originated here.
Every other English speaking country took the language from London. Seeing how other cultures influenced English and learning how the grammar formed will give you a broader understanding of the entire language.
Studying Here Isn't Boring
There's a lot to do, a lot to see, and a lot of people to meet!
5. Study with People from All over the World
A lot of people choose to study English in London.
Because of this, you are introduced to different cultures and perspectives, which can positively influence your life and character.
It's also easy to make new friends because you're all studying together.
6. Fun Learning
Studying here feels more like a vacation than a summer class. Many of the things you would normally do for fun will actually help you develop your English skills.
You can check out the reconstruction of Shakespeare's Globe theatre and see a live performance of one of his plays. This will help you learn about English poetry and literature.
On your days off, you can visit some book stores and practice your reading.
Meeting people and spending time at the beach, exploring, and shopping will make your time learning English relaxed and enjoyable. If you're staying in London for a long amount of time, you can take a break from your studying and spend a week relaxing like a real vacation.
7. The City Itself
London itself is full of vibrant culture, art, history, and people. You can ride double-decker buses through the streets or hang out with friends at local pubs.
The only regret you'll have at the end of your stay is that you weren't able to live there longer. It's not an experience you'll forget.
Are You Convinced Yet?
London is the best place to learn English because it relates classroom lessons with historical background, and it's fun!
The English qualifications you'll get here are recognized all over the world.
If you want to study English in London but need help figuring out how to get there, let us know!