How English Courses in London Can Help Build Reading Skills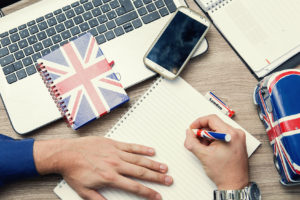 If you think "Cheerio!" is just something on the front of a basic cereal box, have we got some learning for you. It's time to hit the books and take some English courses in London, with proper programming for every type of student.
No matter what type of time you have available, your previous English coursework, or your preferences on classroom learning, let us give you the gift of language. Read on – or ask someone for a little help – to find out how you too can be speaking "the most influential language" in the world!
Spend Your Summer Prepping
Whether you want to learn English for work, school, or personal development, many options are available to fill your summer with reading and writing.
If you want to use your summer as preparation for college, try a course that preps you for the International English Language Testing System.
If you've already learned a bit of English and want to refine your work communication skills, sample the Business English certificate offerings.
Of course, prospective students eyeballing their dream schools can hone their language skills in the Cambridge First, Cambridge Advanced, and Cambridge Proficiency courses and exam preparation classes.
Every one of these courses covers reading, grammar, vocabulary, speaking, and pronunciation.
Summer Learning
Although there are English courses in London year round, when you choose a summer prep course, you get everything you need to know within the span of just a couple of months.
This includes classroom coverage of nouns, verbs, adjectives, and grammar, plus games like crosswords, speaking activities, and quizzes to reinforce the subject matter.
Your teachers will also take you out and about in London to put your new skills to use!
Immersion English Courses in London
As you improve your grammar, speaking, and reading skills in England, there's another way to study.
It's called immersion studying, and it can be an incredibly exciting way to pick up your English skills.
When you learn by immersion, you are literally dropped into the middle of a situation where the majority of people around you already have that skill, in this case, native English.
Don't worry!
Your professors don't just leave you there to point at pictures and try to struggle your way around the wording.
You have help along the way, but you get a total sense of the language instead of having it broken into small chunks.
For example, you can take immersion English playing golf, doing yoga, riding horses, performing martial arts, circuit training, and more.
Where to Stay
All into immersion?
You can take it even further when you decide to stay with a native-speaking host family.
For an additional fee (though often much cheaper than trying to rent a hotel or inn on your own), you can live with a London family, getting to practice your skills around the clock and joining them for meals and outings.
Varying types of rooms are available, including shares, plus residence halls for those who prefer a more collegiate type of setting.
Keeping Your Spirits Up
Whether you're waiting for your English courses in London to begin or haven't yet enrolled, stay engaged.
You're doing the right thing!
As you are out and about, you can practice English everywhere you go.
Just be open and up front, even if you have a hard time figuring out how to say or read things:
"I'm sorry, I don't know the word for this"
"Can you read this to me?"
"I'm just a beginner, how do you pronounce this?"
"Can you tell me what this means?"
"This looks like.. do I have that right?"
You can also supplement your coursework or prepare in advance with English learning phone apps, which give you a word of the day, pronunciations, quizzes, images of signs and other frequent icons, and more.
English Courses in London for Professionals
Does your job have deep technical terminology you're finding hard to grasp in your non-native language?
If you work in finance, for example, and don't understand English, it can be difficult to try to learn – much less to explain to others – the difference between abatement, abend, adhocracy, and adjustable peg.
There's help!
You can enroll in specialized, intensive English courses in London that focus purely on your professional area.
You'll be with peers in your industry, plus professors who really speak your language in more ways than one.
Not only do they know perfect English, but they also know your subject matter.
They can then blend the two together to ensure that you're able to talk your industry's terms in English, too, making you much more comfortable in meetings, webinars, phone conferences, and even interviewing for jobs.
Courses are available in:
Finance
Oil and gas
Marketing
Law
Engineering
Biology and chemistry
Accounting
Medicine
Executive Management
When You're Not Studying
It's time to take the learning outside the classroom!
After all, it shouldn't be all work and no play.
Because you've chosen to take your English courses in London, you're now perfectly positioned to really enjoy your free time exploring the city and all it offers tourists and locals alike.
Be sure to take in:
The London Eye (it's so much more than "a big Ferris wheel!")
Westminster Abbey
St. Paul's Cathedral
The London Dungeon (if you dare!)
The River Thames
Buckingham Palace (greet your host, the British Queen, and the palace is actually open to visitors every summer)
The Tower of London
Hyde Park
Ask your school for ideas of how you can combine language learning with sightseeing.
School's In Session
Ready to begin your English courses in London?
Jolly good! Let us help point you in the right direction.
Click here to let us know a little bit about what you're looking to study, including whether you'd like to enroll part time, full time, or all the way into an intensive study.
You can also let us know which country you're coming from, your age, native language, and anything else that might help us design the perfect course for you.